My First Micro-SaaS, Marketing platforms used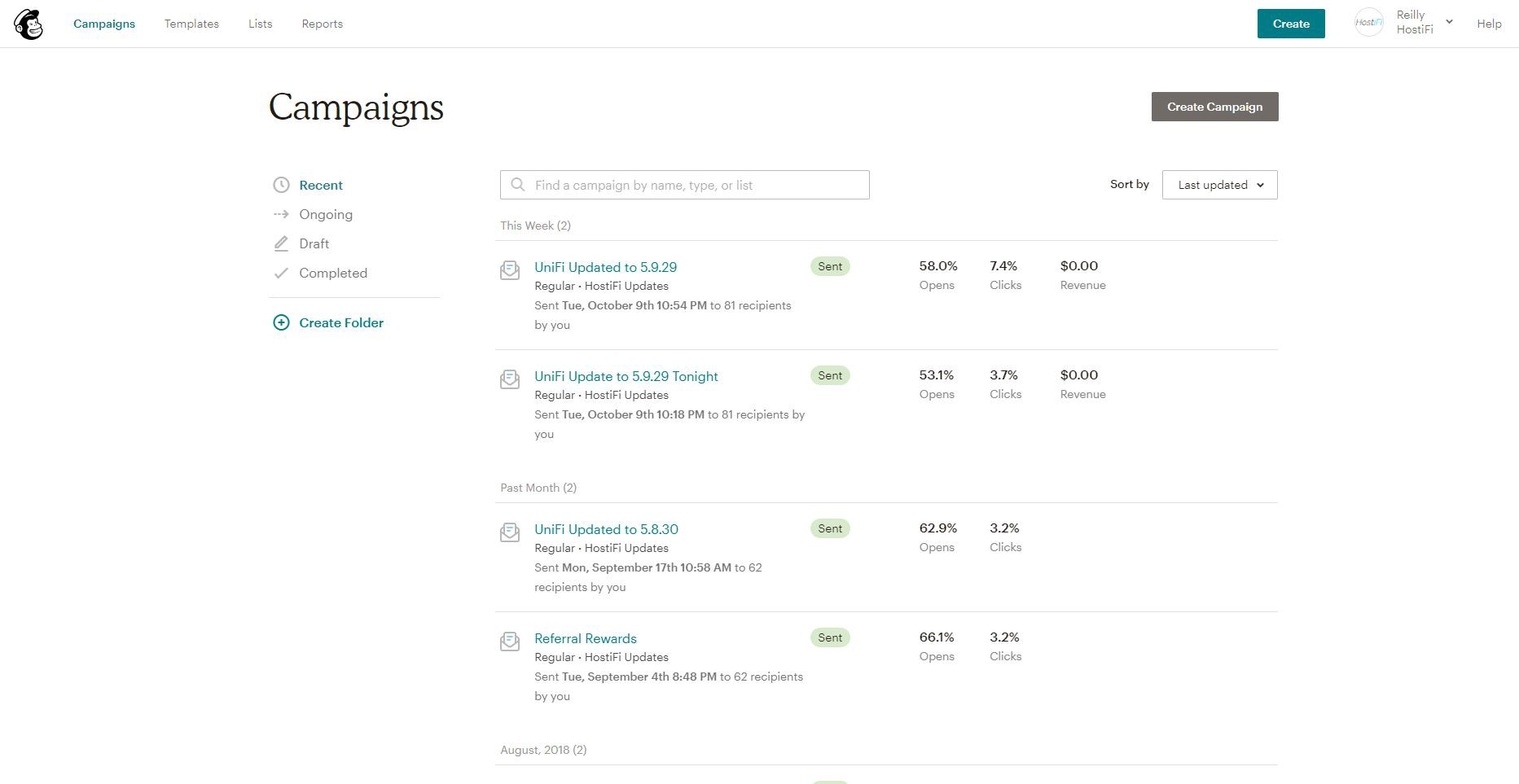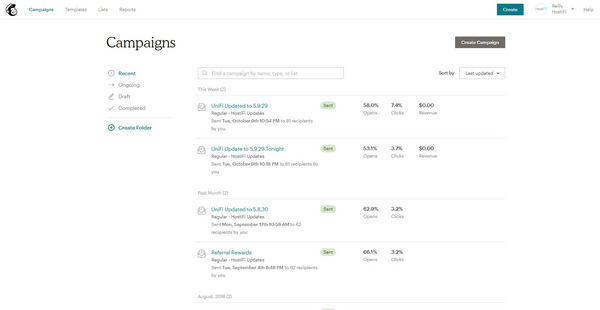 In this post I discuss 20 different marketing tools that I've been using to get the word out about my UniFi controller hosting platform, https://hostifi.net, which, in its first 5 months, has grown from 0–85 customers.
1. Easy Digital Downloads Acquisition Survey
This is a WordPress plugin which asks subscribers how they heard about us when checking out. It has been really useful to see the results, and gives an idea of where we should focus more marketing effort. Even though we've got Google Analytics and Facebook Pixel trying to attribute where purchases came from, it's always best to hear it from the customer.
2. Google Analytics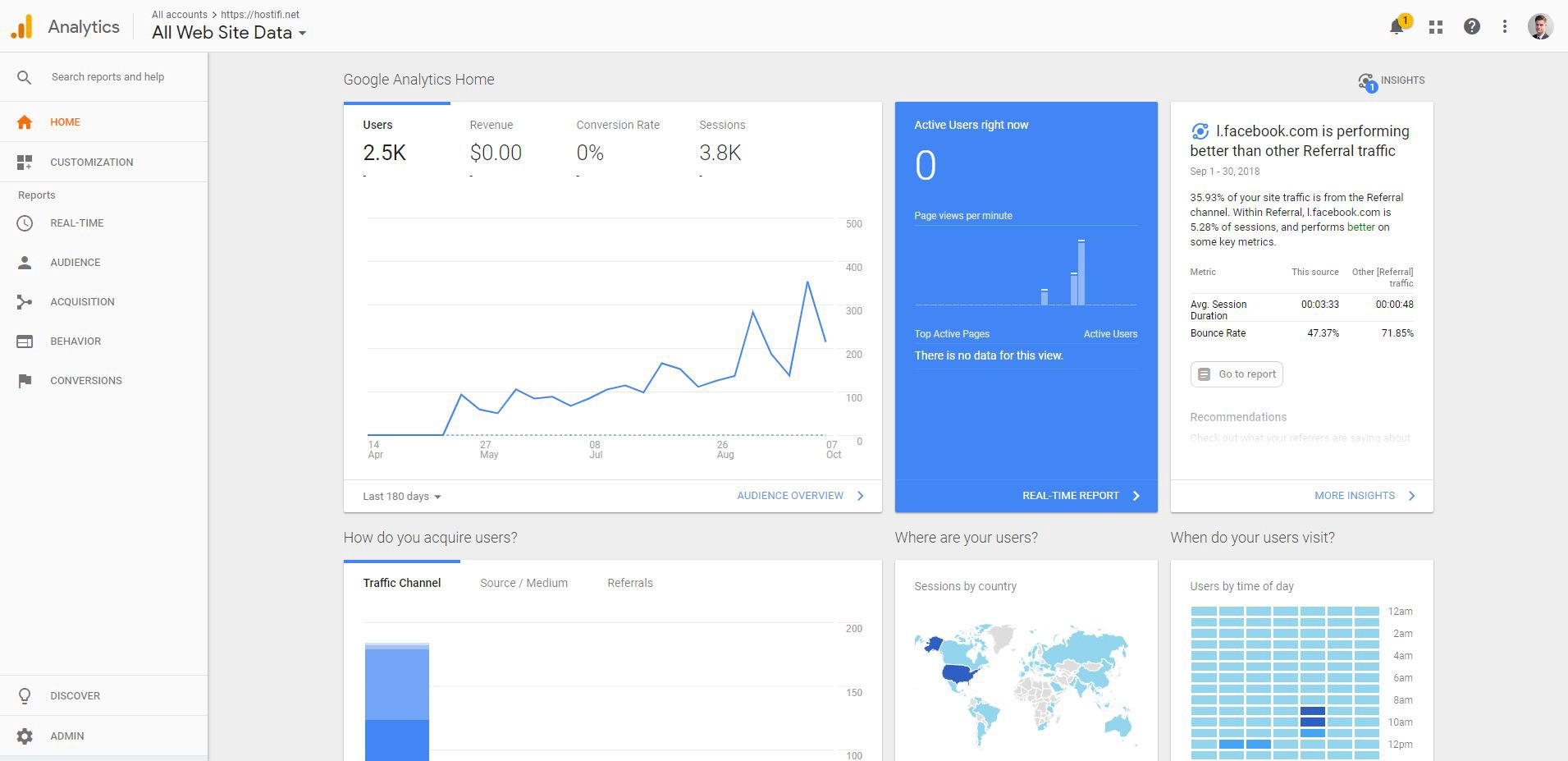 We use Google Analytics for tracking web traffic. I've used it for years for that. But with HostiFi I really started to dig deeper into it. I setup some Goals, to track checkout abandonment and conversions. To do that I had to create a "purchase confirmation" page, and I tracked how many visitors made it from checkout page to purchase confirmation page.
I still have a lot to learn with Google Analytics, and I want to go through their "academy" material when I get some time: https://analytics.google.com/analytics/academy/. For now though I've started using Facebook Pixel and found it to be much easier to get started with (more info down the page).
3. Google Adwords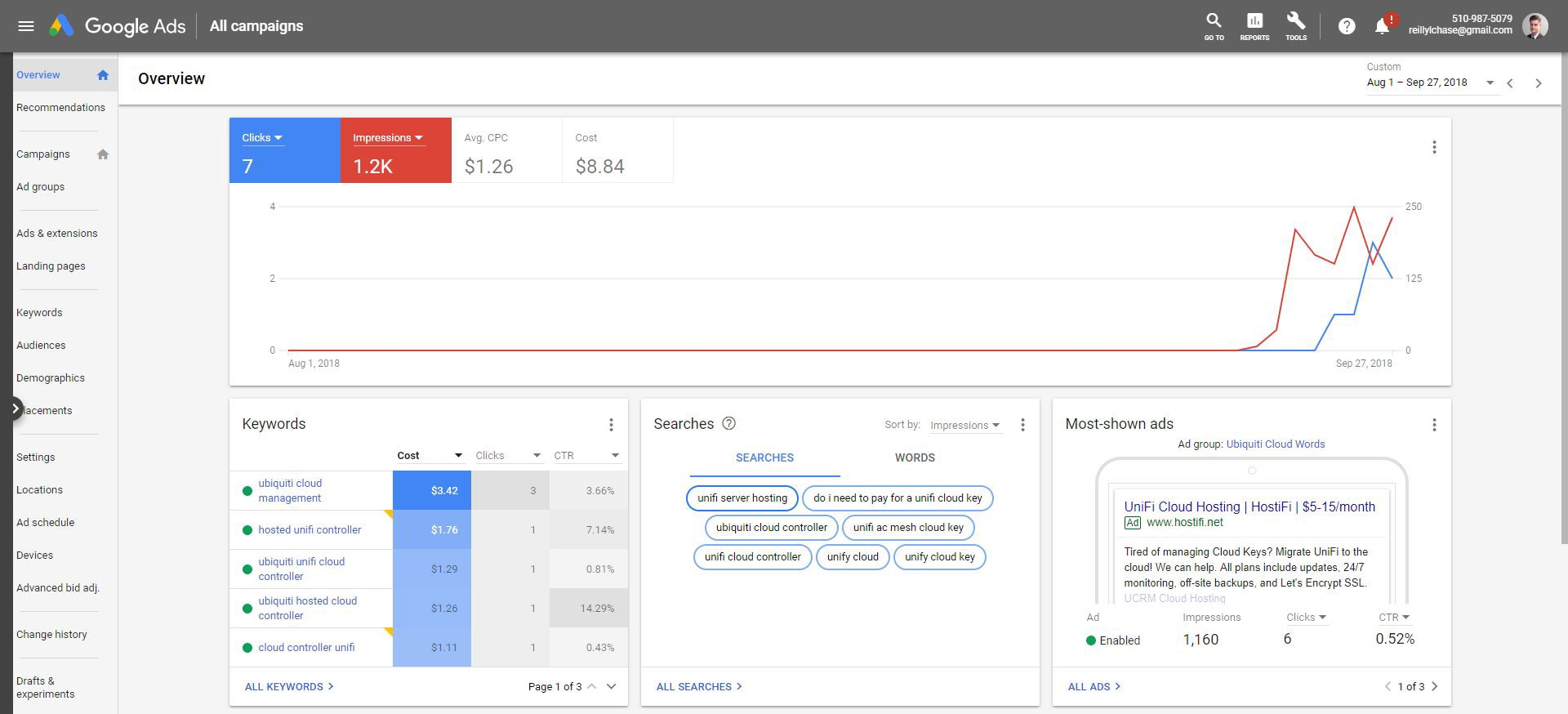 This has been an advertising strategy that has been working really well for HostiFi. When people search for various combinations of "UniFi cloud hosting" we come up in an ad at the top of the search results. Still need to implement conversion tracking for this, but several people have already told me that they found us through the Google Ad, and at around $1.10/click for a ready-to-buy type of search term, I plan to keep paying for these.
4. Twitter Analytics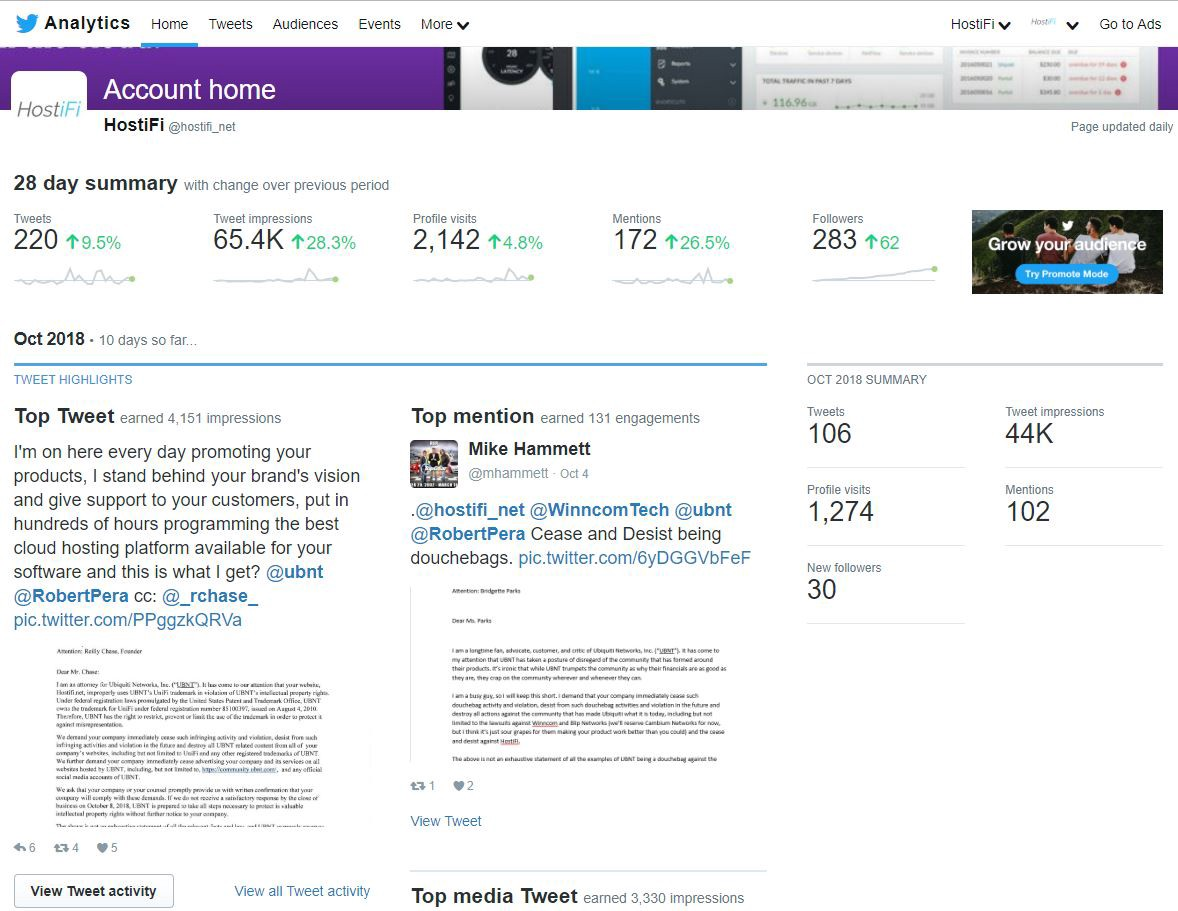 Twitter Analytics itself is not critical to our marketing effort, but it's nice to be able to track our growth on Twitter, which is our primary marketing platform.
5. LinkedIn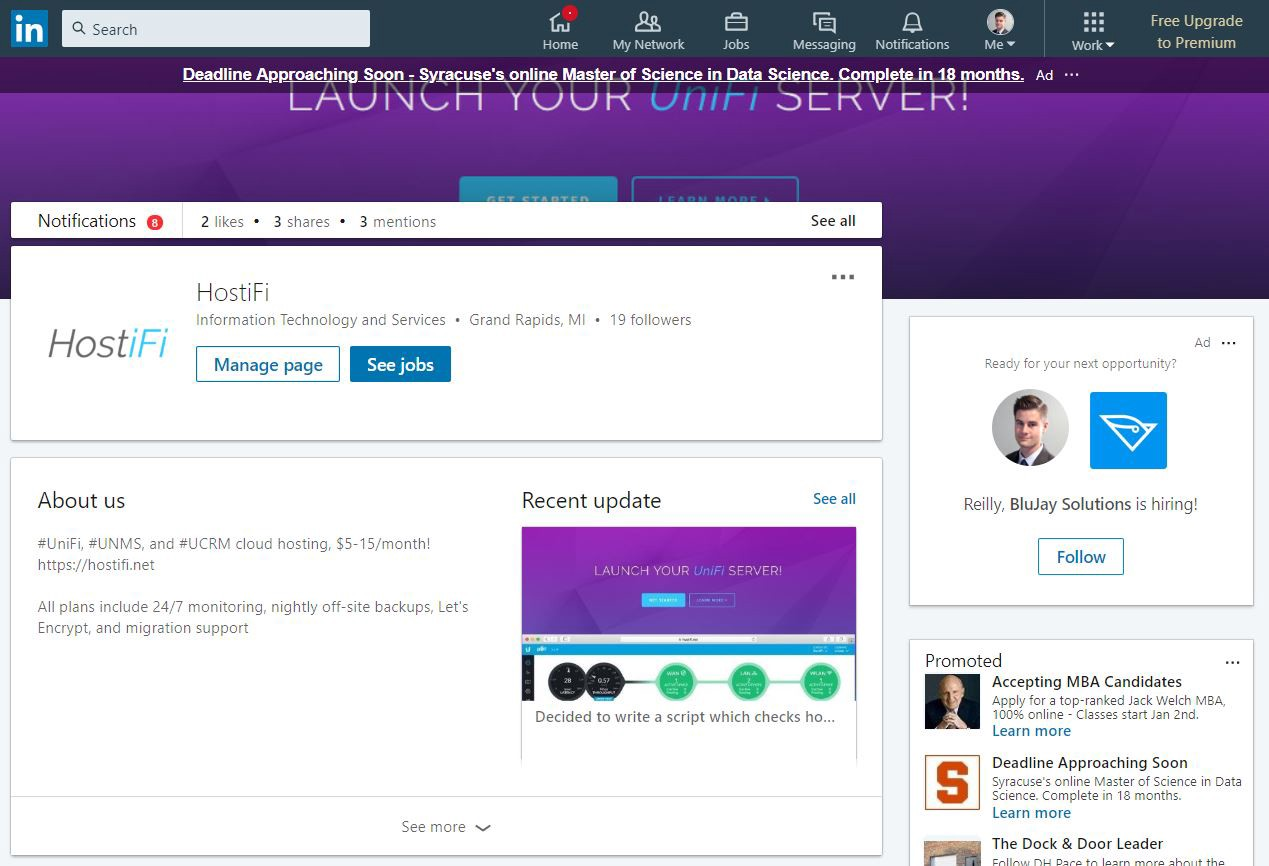 One of the first social media platforms I made a HostiFi page for was on LinkedIn. I knew it would be a good place to start for a B2B company. However, it has been a very difficult platform to work with. The problem is that interaction is completely one-sided. Users can interact with companies, but companies can't engage with or connect with users. That makes growth very difficult. To date, we only have 19 followers on our LinkedIn page. My guess is that they are mostly my friends and existing HostiFi customers.
6. YouTube

We've only posted 2 videos to YouTube so far and have 7 subscribers. It's not a platform that is driving traffic for us currently, but I have big plans for this as part of the long-term strategy.
7. Facebook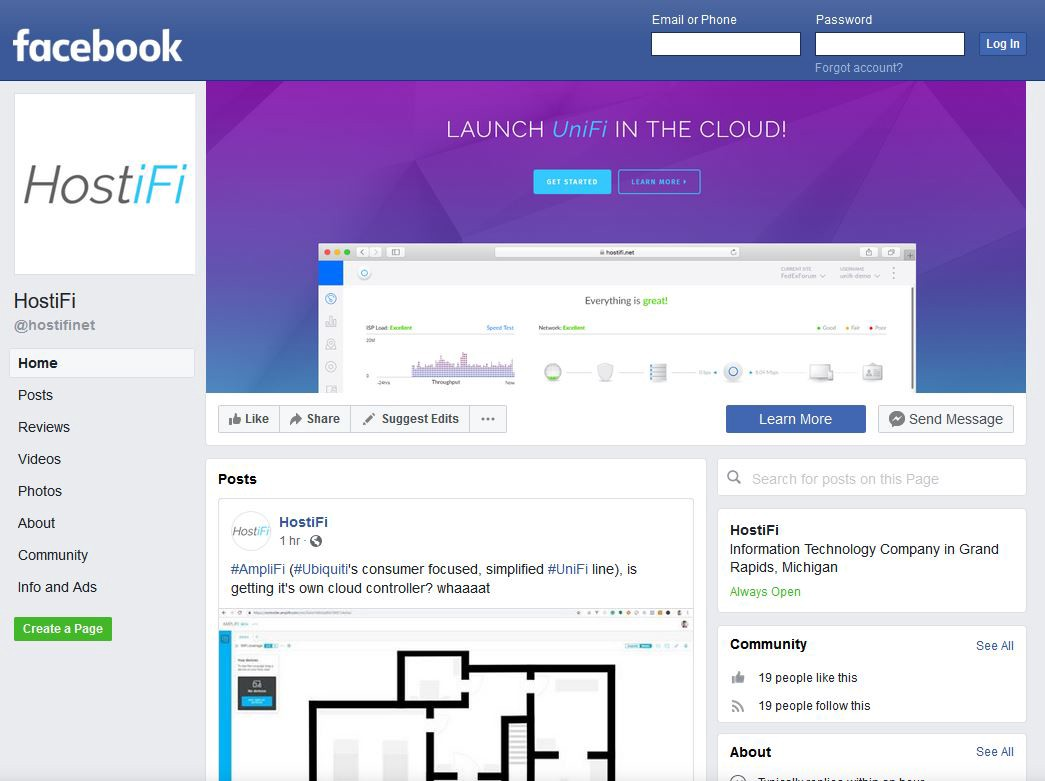 We have a company page on Facebook, and with problems similar to LinkedIn. We only have 19 page "Likes". Growth is slow because of the inability to interact with and add people from within the company page. It's part of the long-term strategy, but for right now it doesn't do much for us in terms of traffic.
We did get our first review on Facebook recently which was great though!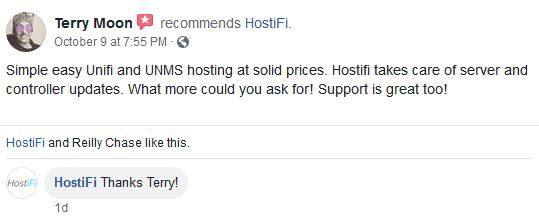 8. Twitter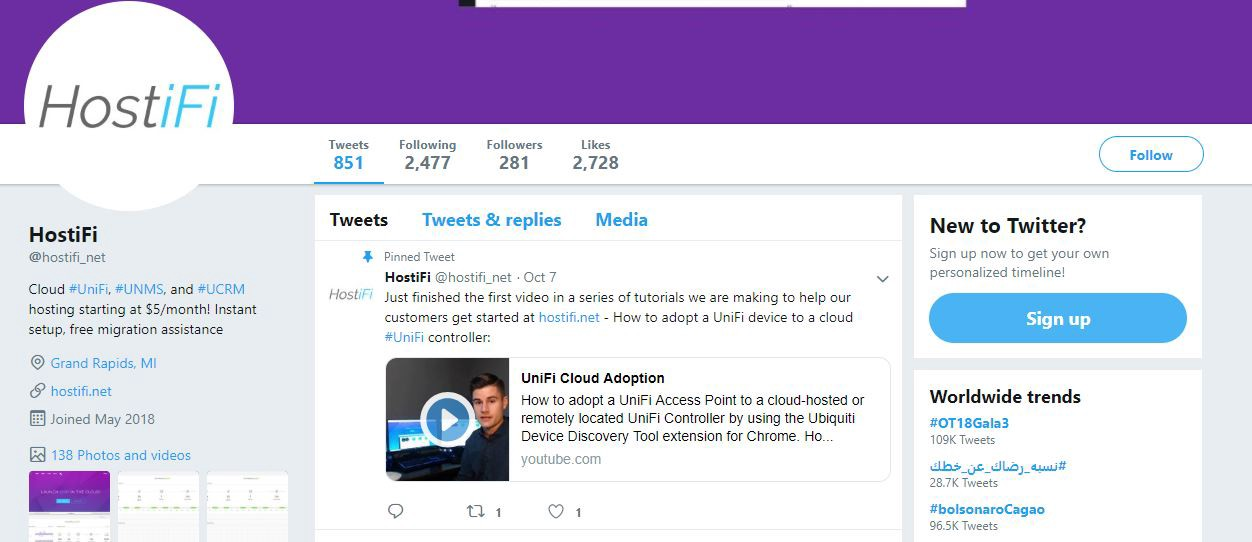 Twitter is our #1 marketing platform, driving a significant amount of traffic to the site. The reason we've had some initial success with Twitter is because of the way that companies are treated just as normal users. We are able to engage with and follow others. There is no shortage of Ubiquiti related content being posted each day which we are able to easily find and interact with using hashtags.
9. Instagram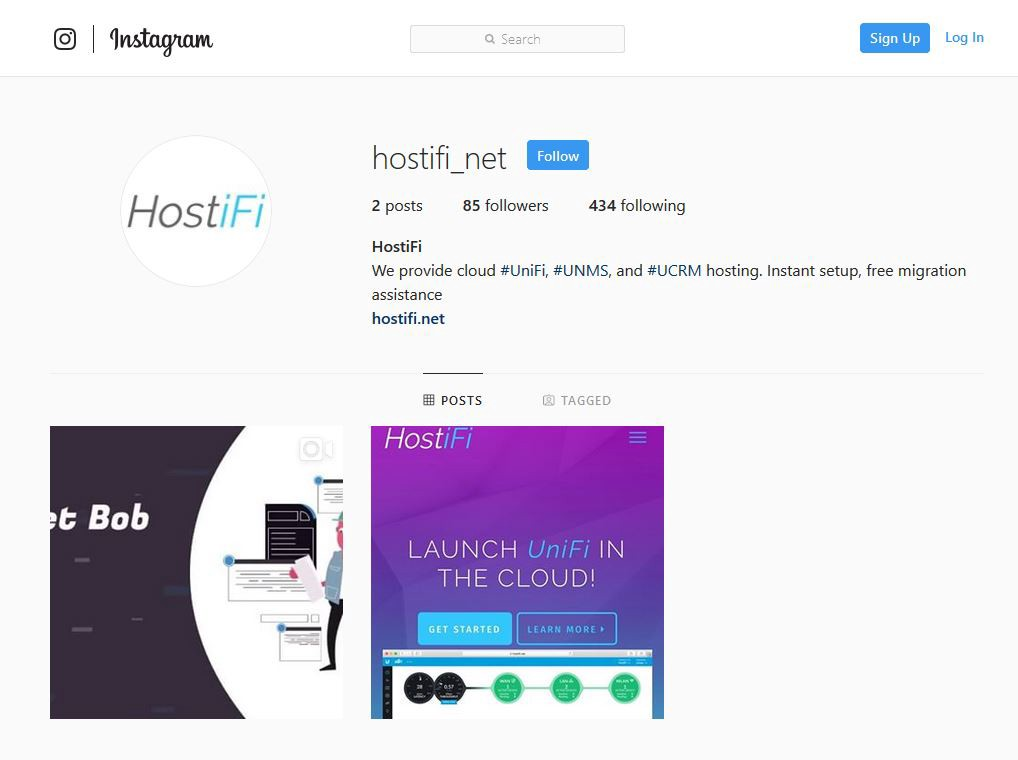 With only 2 posts, and very little time on the platform, for some reason 85 people followed us? Instagram is very similar to Twitter: business accounts are the same as user accounts. That's great because we are able to engage with users under relevant Ubiquiti related hashtags, and grow our following much quicker that way. The only thing I don't like about it is it can only be used from an app, but I spend my day on my desktop, so I rarely make time for it. A lot of potential for growth here however.
10. Tweetdeck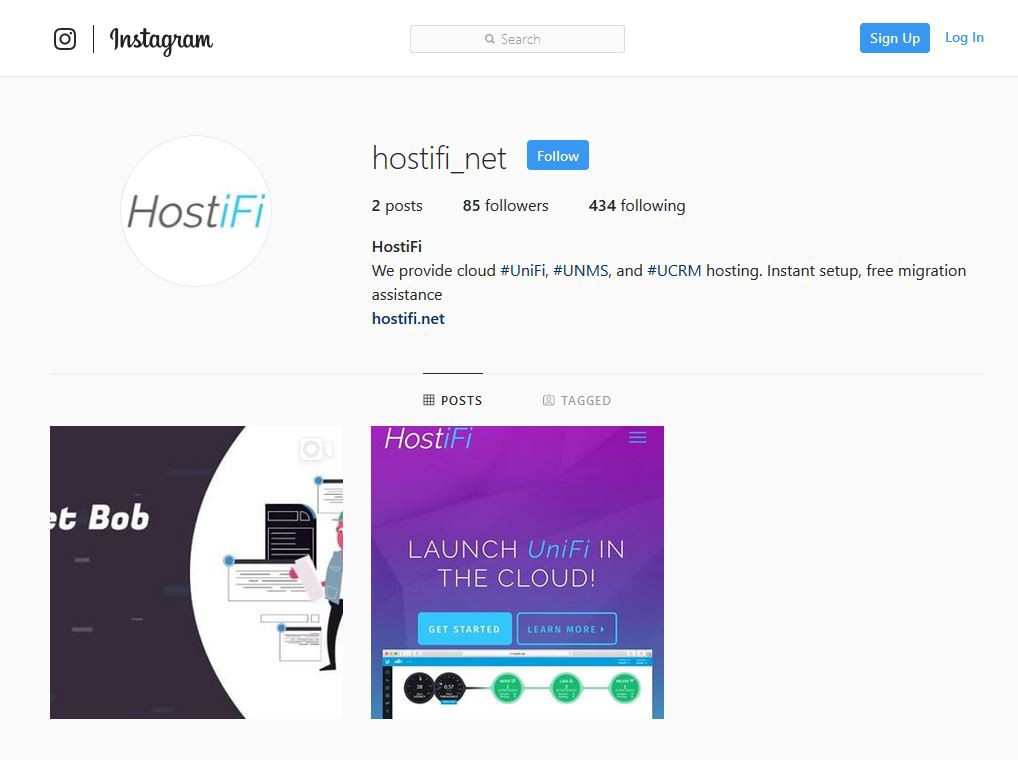 Discovering Tweetdeck was a game-changer! Initially I found traction on Twitter by searching for Ubiquiti related hashtags, and following Ubiquiti's followers. But the exercise became tiring. I would log in each day and have to search for half a dozen different hashtags just to see if any new conversations were going on under them. After setting up Tweetdeck, now I have one dashboard with dozens of hashtags that I'm following. It's saved me a ton of time.
11. Facebook Pixel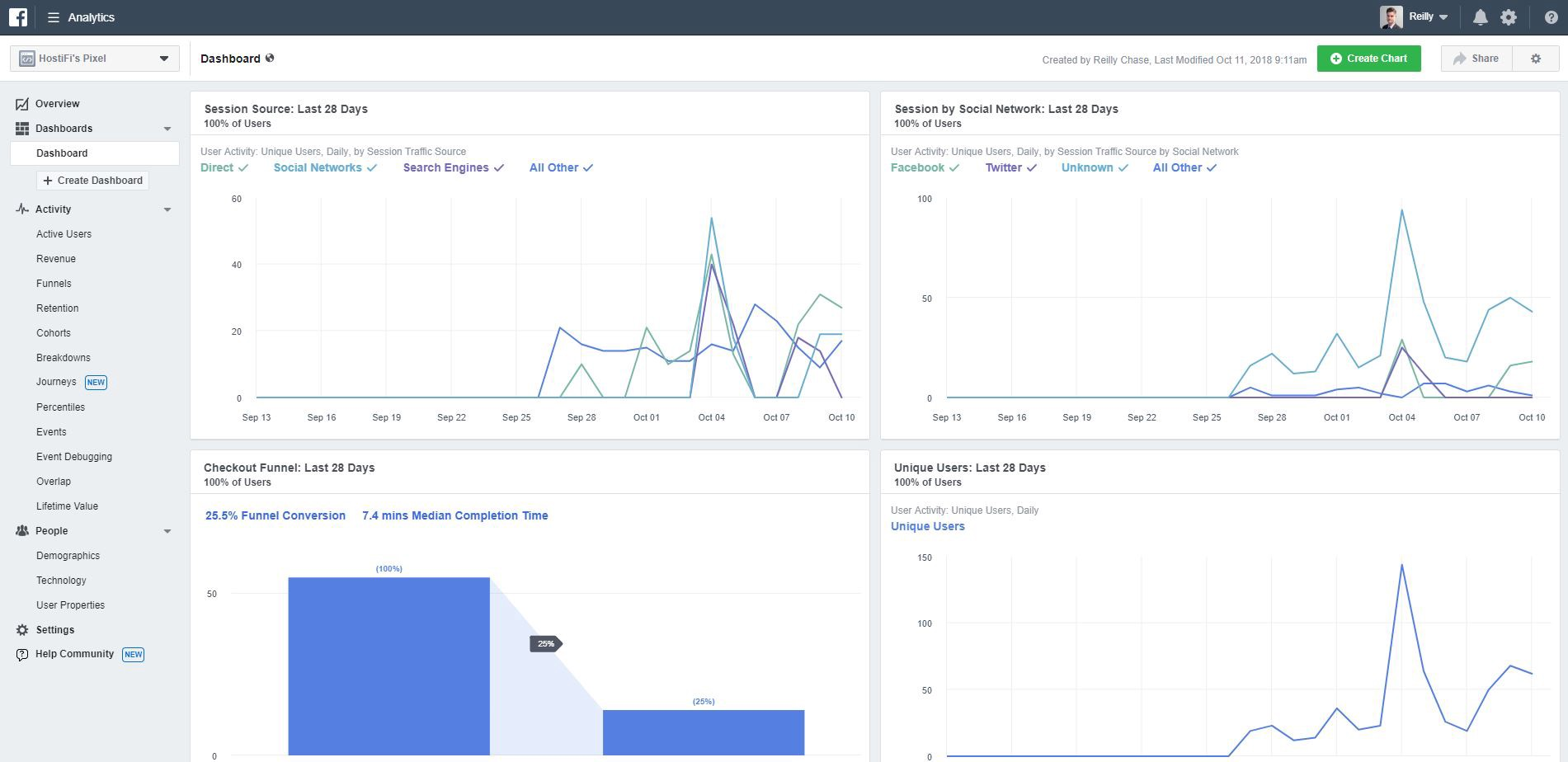 I just recently started trying out Facebook Pixel. It has an analytics dashboard very similar to Google Analytics, however, I've found it to be way more intuitive. It was much easier to get started tracking conversions, and looking at traffic sources. I'm sure Google Analytics is more feature packed, but I think I will be using Pixel from now on for its ease of use.
12. Facebook Ads

I started off running our first Facebook ad using a $10 credit. It performed really well, and so I ran a second ad paying $35. I was able to get a few customers just with that. Facebook's ad platform is the best I've seen from all the ones I've tried out (Twitter, LinkedIn, Google Adwords). It's amazing how targeted you can make your ads. For HostiFi, I targeted males who were interested in Ubiquiti, between the ages of 24–64, in a handful of selected countries where we already users. I will definitely being doing this again, probably dedicating a small monthly budget to it.
13. LinkedIn Ads

I'm running an ad on LinkedIn right now. It's performing the worst of any ad platform I've used so far. For almost a month now, its accumulated a total of 956 impressions, and not a single click. I think the problem has to do with who the ad is targeting. On LinkedIn it was very difficult to target Ubiquiti users for some reason. Maybe because there aren't many users in Ubiquiti related LinkedIn groups, or not many people listing Ubiquiti in their skills. In any case, because of the low volume for Ubiquiti, I had to also target more general interests like "wireless".
14. Buffer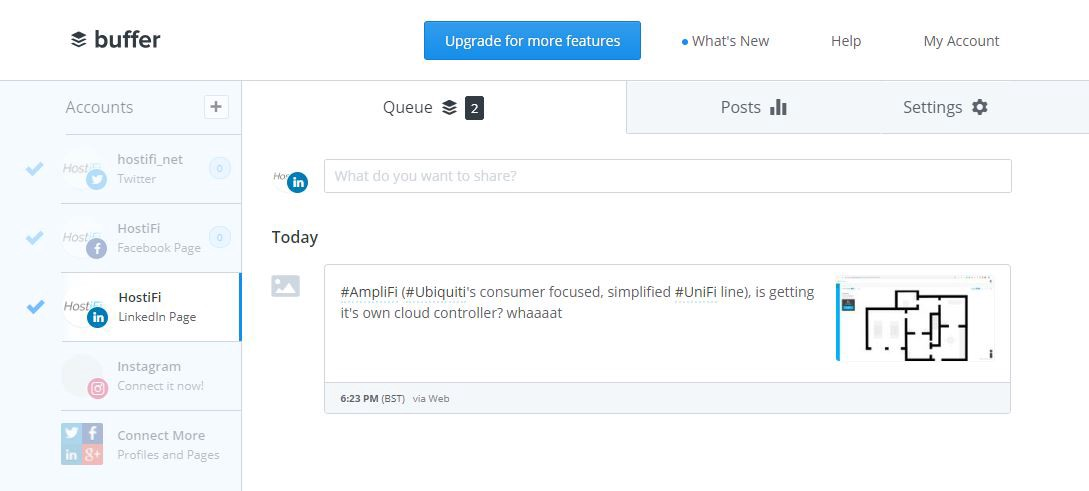 Like Tweetdeck, discovering Buffer was also a game-changer for saving me a ton of time. The problem was, I was trying to keep up with all the social media platforms. Logging into each one every time I wanted to post an update was very time consuming. I already had traction on Twitter, so I was mostly involved there, but I didn't want Facebook and LinkedIn to be neglected. With Buffer I can post to all three from one dashboard, and schedule future posts as well.
15. Mailchimp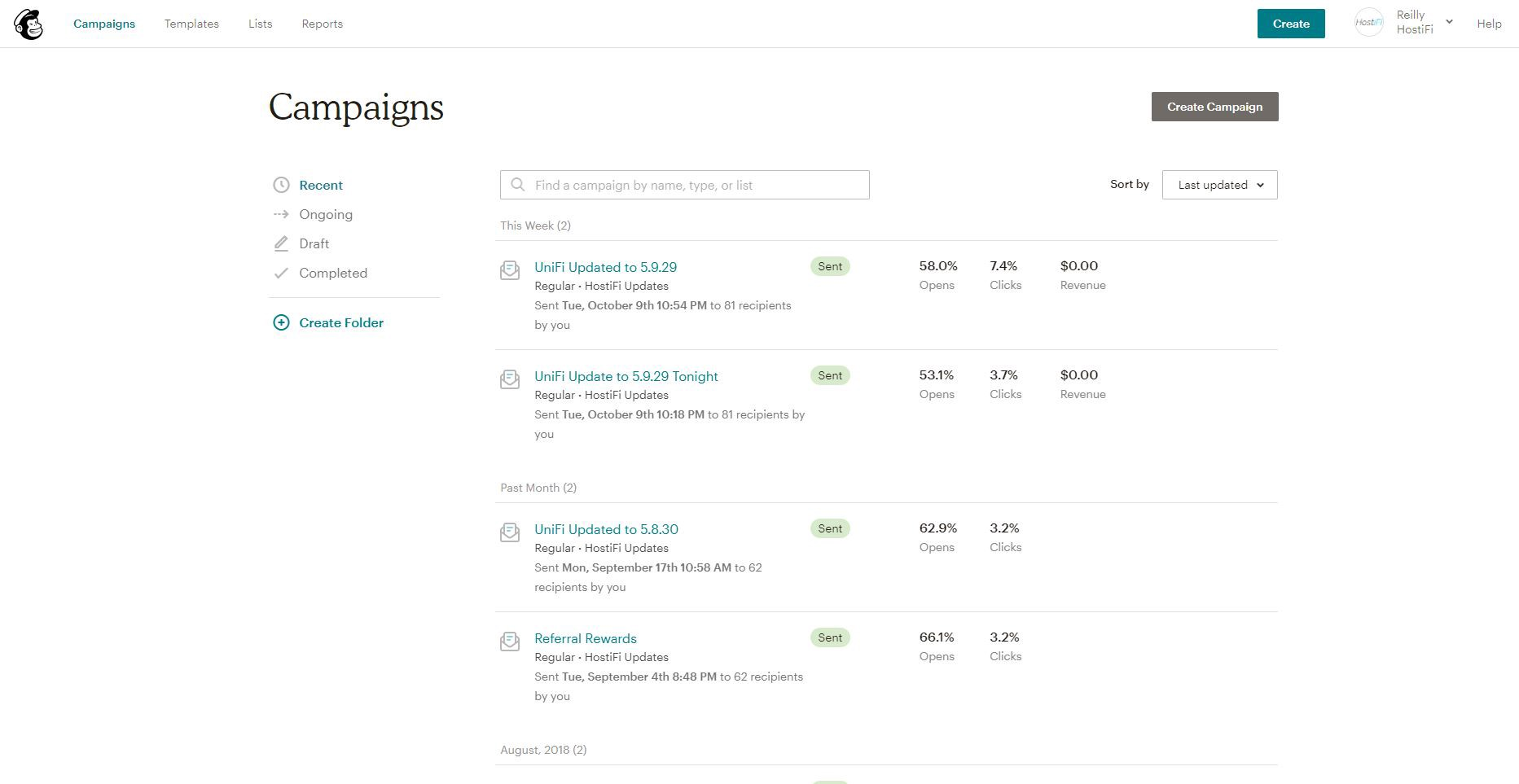 MailChimp hasn't been too much of a marketing tool for us yet. I've mainly used it to broadcast updates to our existing customer base. However, in my broadcasts, which are typically letting people know about server updates, I have included some call-to-actions like "check out our other products" and "follow us on social media" which I've had some success with and will continue doing.
Would like to explore the more traditional use of Mailchimp in the future though, for example, setting up a landing page, collecting email addresses in return for an ebook download or something, and then sending follow up emails with more information about HostiFi.
Looking into using https://drip.com in the future as well.
16. ChartMogul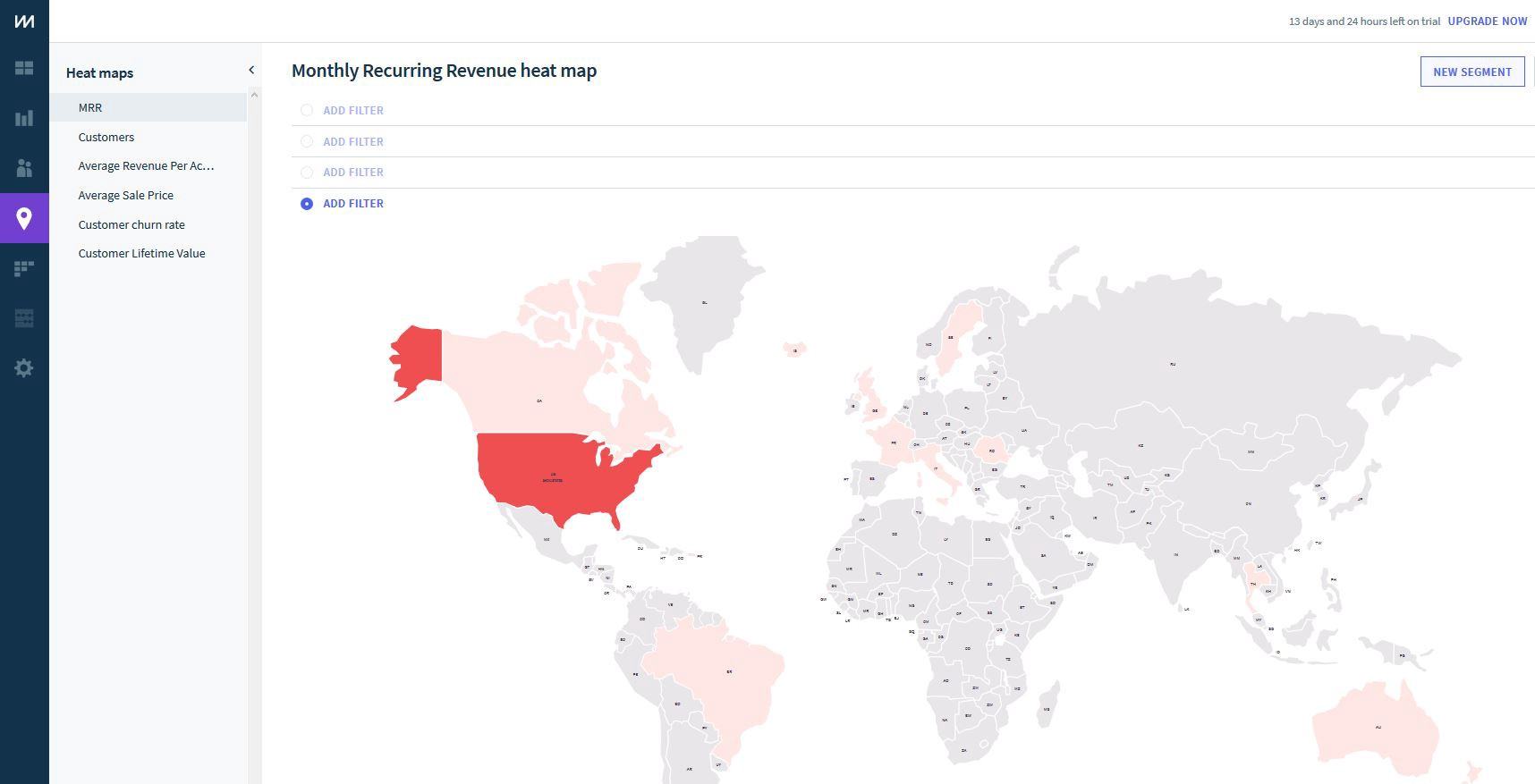 ChartMogul is one of my favorite tools on this list. It tracks and graphs all kinds of useful information based on your subscriptions, imported from Stripe transactions. It tracks metrics like MRR growth, churn rate, average revenue per account, customer lifetime value, average sale price, and more. Seeing the map of our customers above was really cool too. I actually had no idea how many customers we have outside of the US, because I didn't have any way to track it before using ChartMogul. And the best part is that it's free for startups that under $10k MRR!
17. Indie Hackers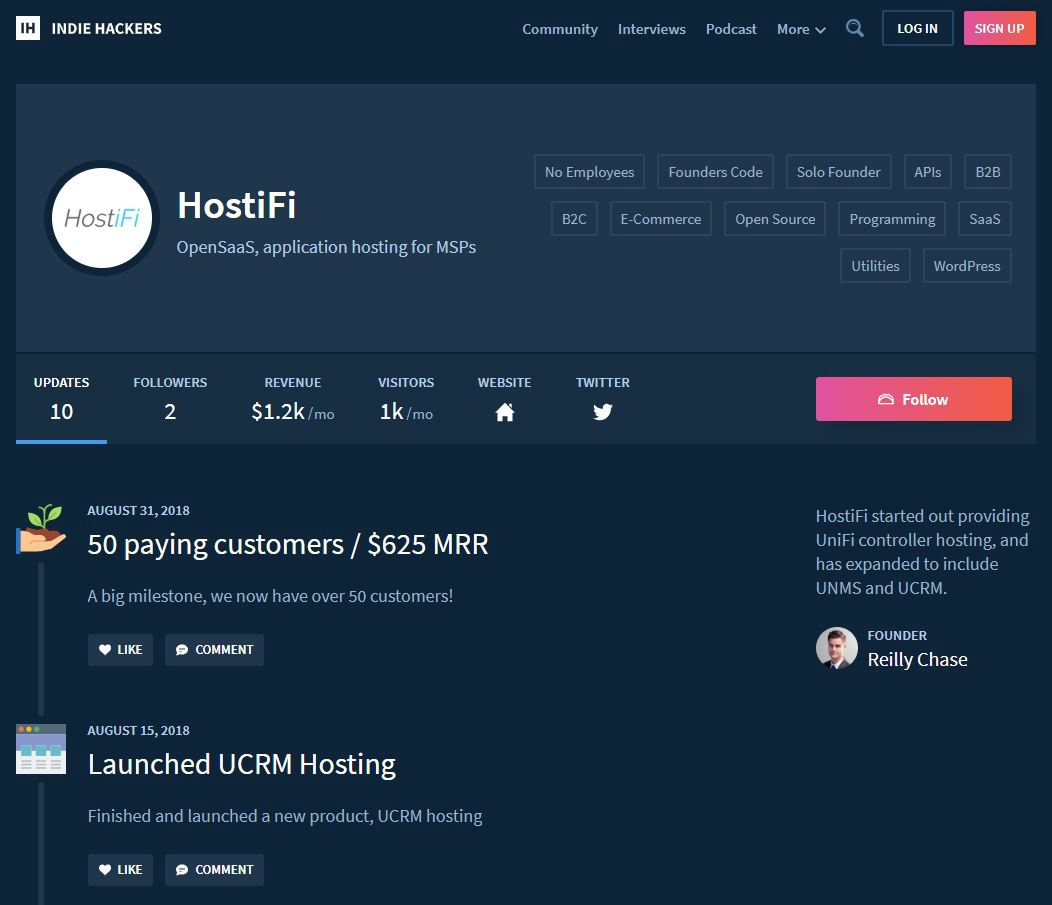 I created an Indie Hackers page for HostiFi. It's not really a marketing platform, because SaaS founders aren't our target customer. But it has been a great community to be a part of and learn in. I also feel that it provides a form of social proof to potential customers who might come across it because it ties in with Stripe and Google Analytics and posts charts of revenue and web traffic growth.
To me, it tells our potential customers that although we're a tiny startup, we are a real business. We have real customers. And I'm open about it. I hate when small businesses try to look big. They list PO boxes in cities around the world on their contact page, and have a four step IVR phone system which sends all the calls to their cell phone no matter which option you choose.
That's shady. That doesn't build trust at all. People see right through it. Honesty builds trust. What's the most important thing you're looking for when you go to buy something from someone you don't know? "Are these guys legit?"
Our Indie Hacker page, social media, and testimonials provide the answer. Yes, we're legit, we do this UniFi hosting thing and we're the best at it. I see being a small business as a strength, not a weakness.
18. Upwork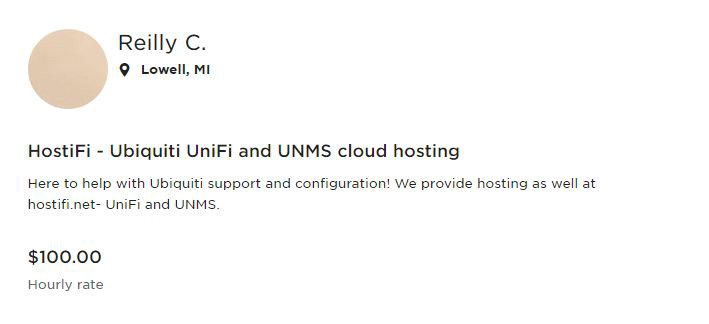 This was a strategy that I tried early on. The idea is to create freelancer profiles advertising services that your product provides the solution for. When people post a job looking for someone to install UniFi on AWS for them, I could apply and let them know about HostiFi. That was the idea, however, I found that the Ubiquiti job posting volume was really low, so I didn't find any good leads. I've been meaning to pick this up again soon though and give it another try. It's not a very scalable marketing solution however (one-on-one interaction required), so I've been focusing on longer-term strategies like content creation.
19. HubSpot Sales

This is a new strategy I am trying out. I am researching and building a list of companies that use Ubiquiti products (mainly WISPs and MSPs), and adding them to a sales funnel in HubSpot. I reach out to them individually with non-spammy, non-automated emails, and start a conversation, then set up a demo if they are interested.
20. HubSpot Chat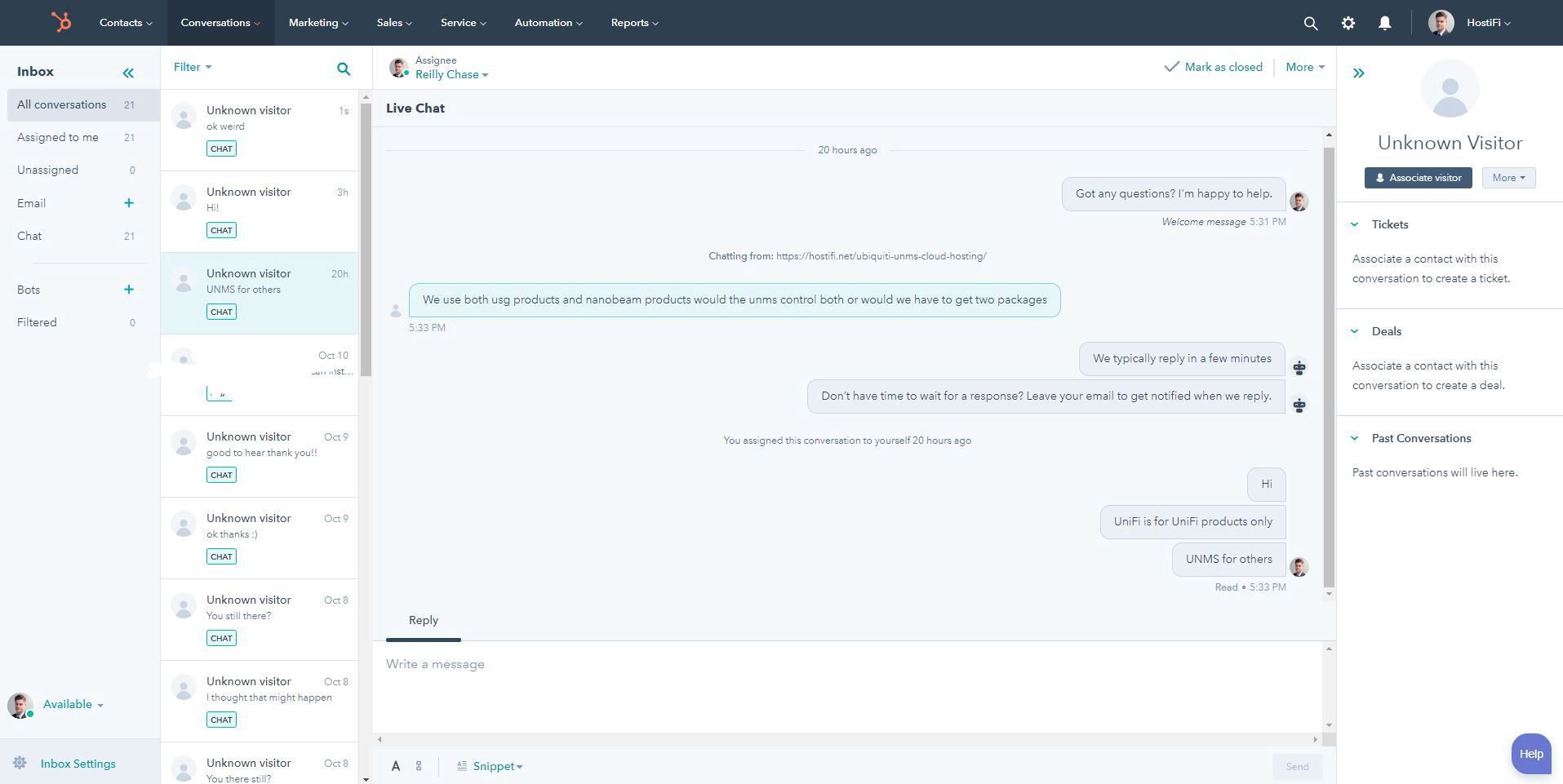 This is also a new tool I recently added. The goal here is to decrease the checkout abandonment ratio. Right now, only 25% or less of people who add a product to their cart checkout, and I want to find out why. In one week I've already had 21 chats with people, several which ended in sales being made. It's also inadvertently become a support channel for existing customers, but sometimes chat is easier than email so that has been another benefit actually.
Closing thoughts
I didn't realize how many marketing things we've dabbled with until I put it all into one post. To wrap this up, it's important to note that I didn't setup all 20 of these on launch day. It's been a toolkit that's slowly been built one piece at a time, with daily effort over the last 5 months.
I've tried many things, and many didn't work. What worked for me might not work for you, and what didn't work for me might be perfect for your business. Now that I've made it this far, I'm investing more time in what is working, less time in what didn't work initially, and still testing out new strategies.