☁️Why we're reinvesting in our UNMS cloud hosting product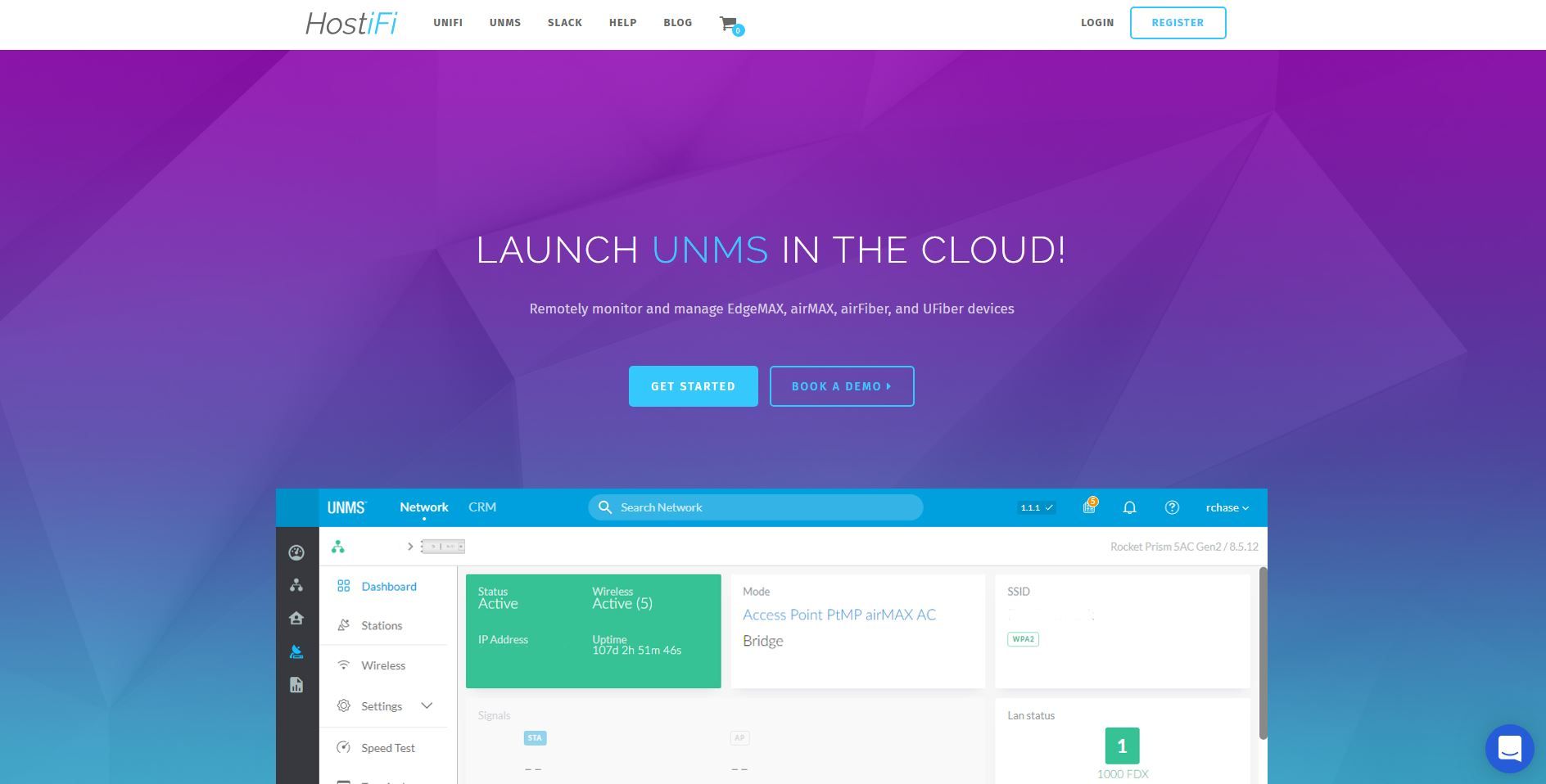 At HostiFi, we are currently managing support and updates across 780 Ubiquiti servers for our 713 customers, who have connected tens of thousands of devices.
The majority of the servers are UniFi, only 81 are UNMS, and we have a handful of UniFi Video servers managed as well. Before UCRM was integrated into UNMS v1, we were also managing UCRM v2 servers.
When Ubiquiti announced earlier this year that they would be providing UNMS cloud hosting for free, we were worried that our paid UNMS cloud hosting service would become obsolete, but after a lot of thought, research, and talks with our customers, we found that we still have a differentiated solution that our customers are willing to pay for, and we're going to continue to invest in improving it.
Some history first.
The Evolution of airControl, UNMS, and UCRM
📍 2016 — airControl v2 Released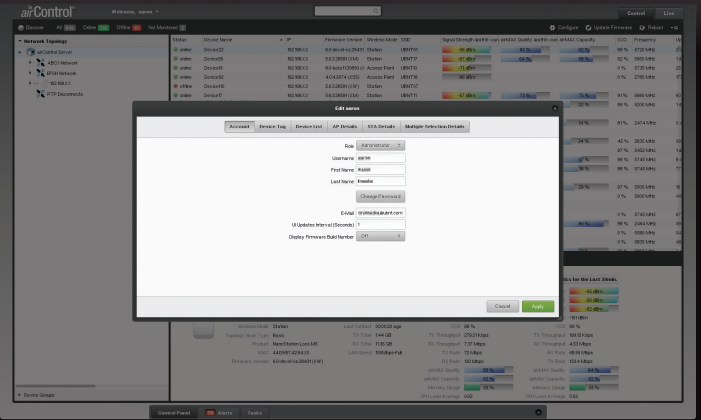 airControl v2 provided an interface for a network administrator to be able to manage Ubiquiti airMAX and airFiber device configurations and firmware upgrades in bulk, as well as monitor connections, and visualize network data.
📍 2017 — UNMS v0 and UCRM v2 Launched
UNMS v0 was launched by Ubiquiti in 2017 as a rewrite of airControl v2, but with the same purpose in mind — it's a place to centrally monitor and manage firmware, configurations, and connections on EdgeMAX, airMAX, airFiber, and UFiber devices.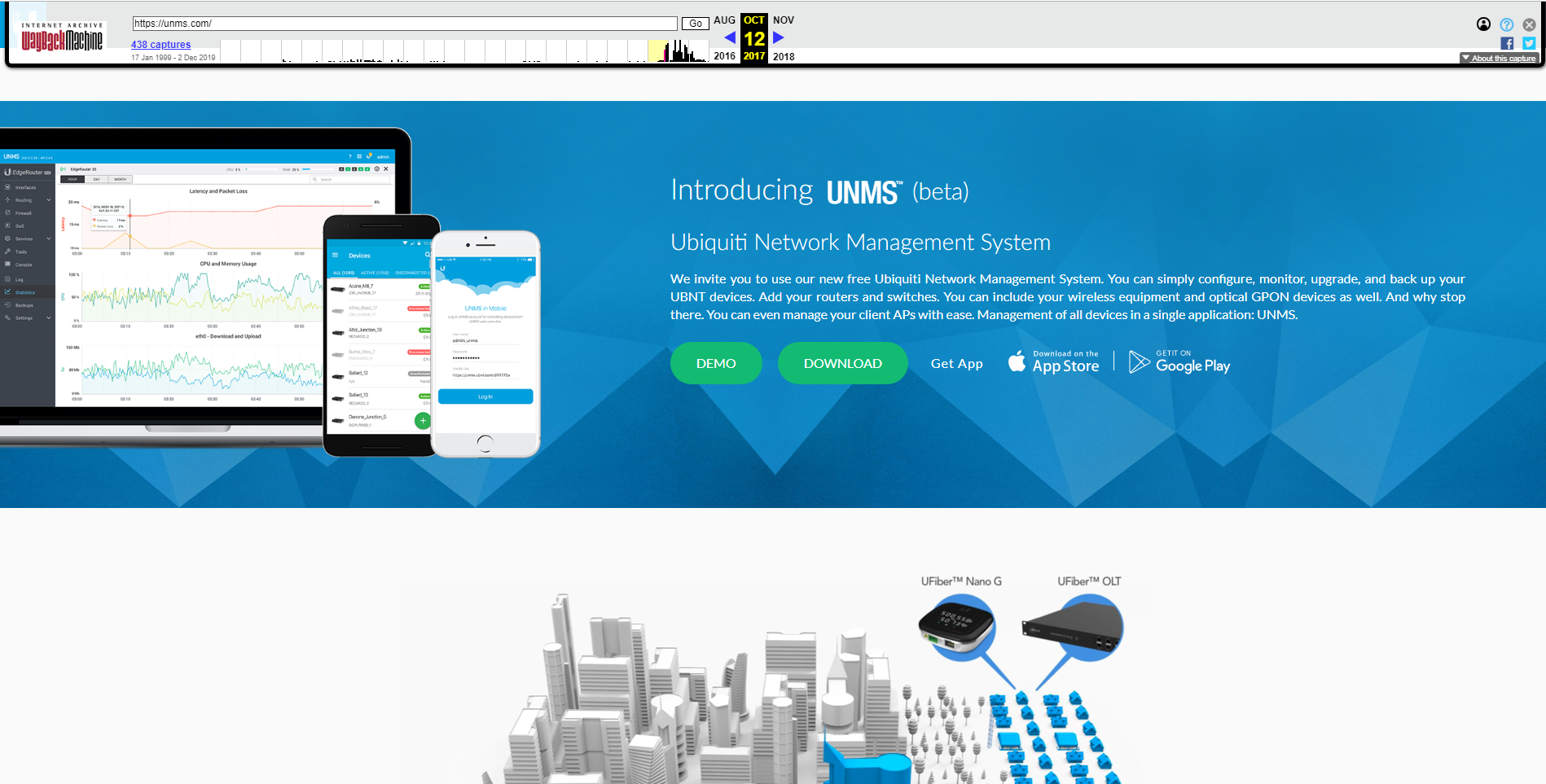 One of the major improvements in UNMS v0 was the device adoption process. Previously, with airControl v2, SSH access to each device was required, but with UNMS there was now a proper layer 3 device adoption feature, eliminating the need for VPNs and increasing security with devices not needing to be connected on public IP addresses.
This new capability initiated many Ubiquiti users to begin to move off of airControl running on local networks to UNMS running on cloud servers.
UCRM was also launched around the same time, as a billing and ticketing system for WISPs.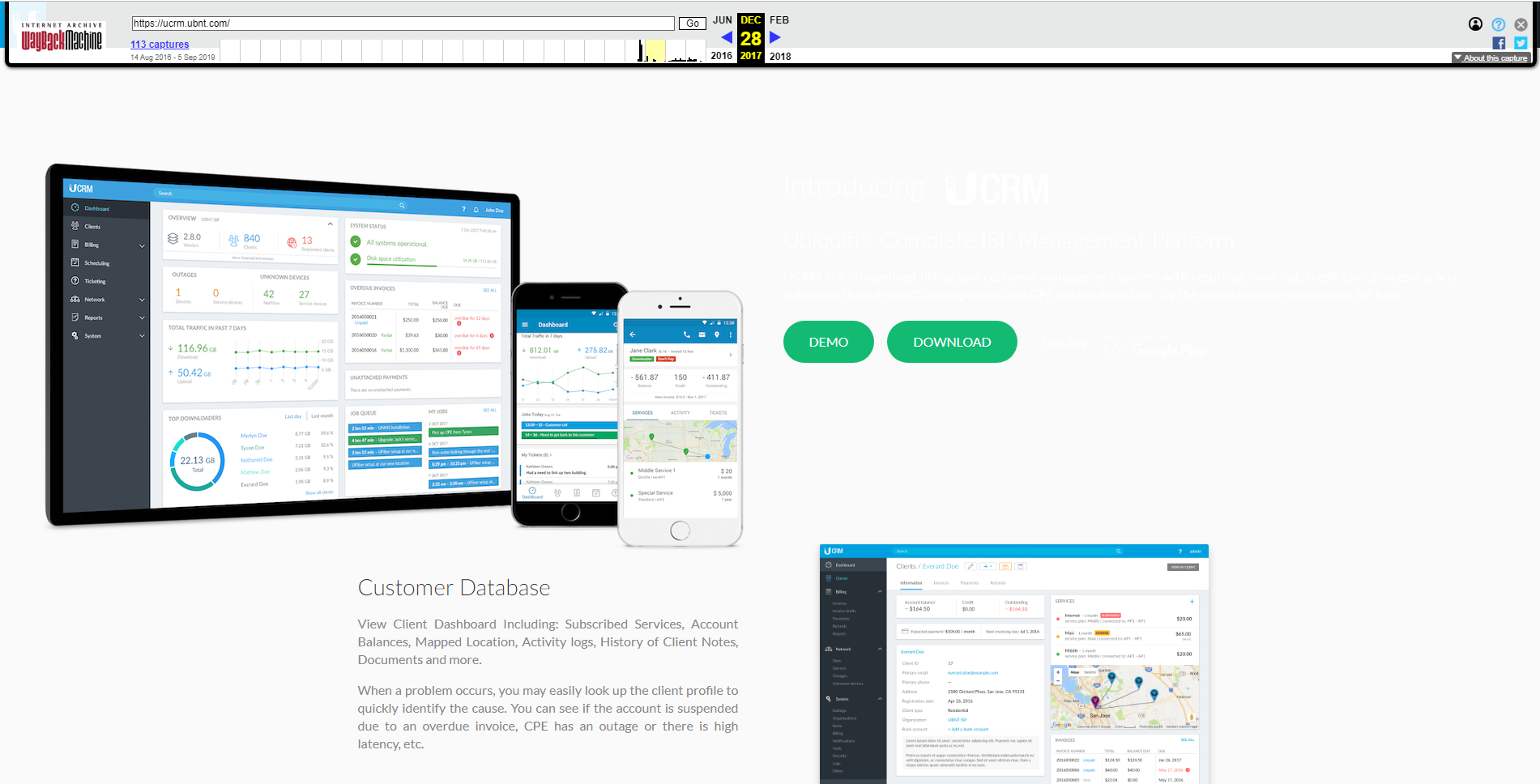 📍 2018 — HostiFi launches UNMS v0 and UCRM v2 cloud hosting
At HostiFi, we were the first to offer cloud hosting for UNMS v0 and UCRM v2 in the summer of 2018, back when it was still only a todo on Ubiquiti's own roadmap.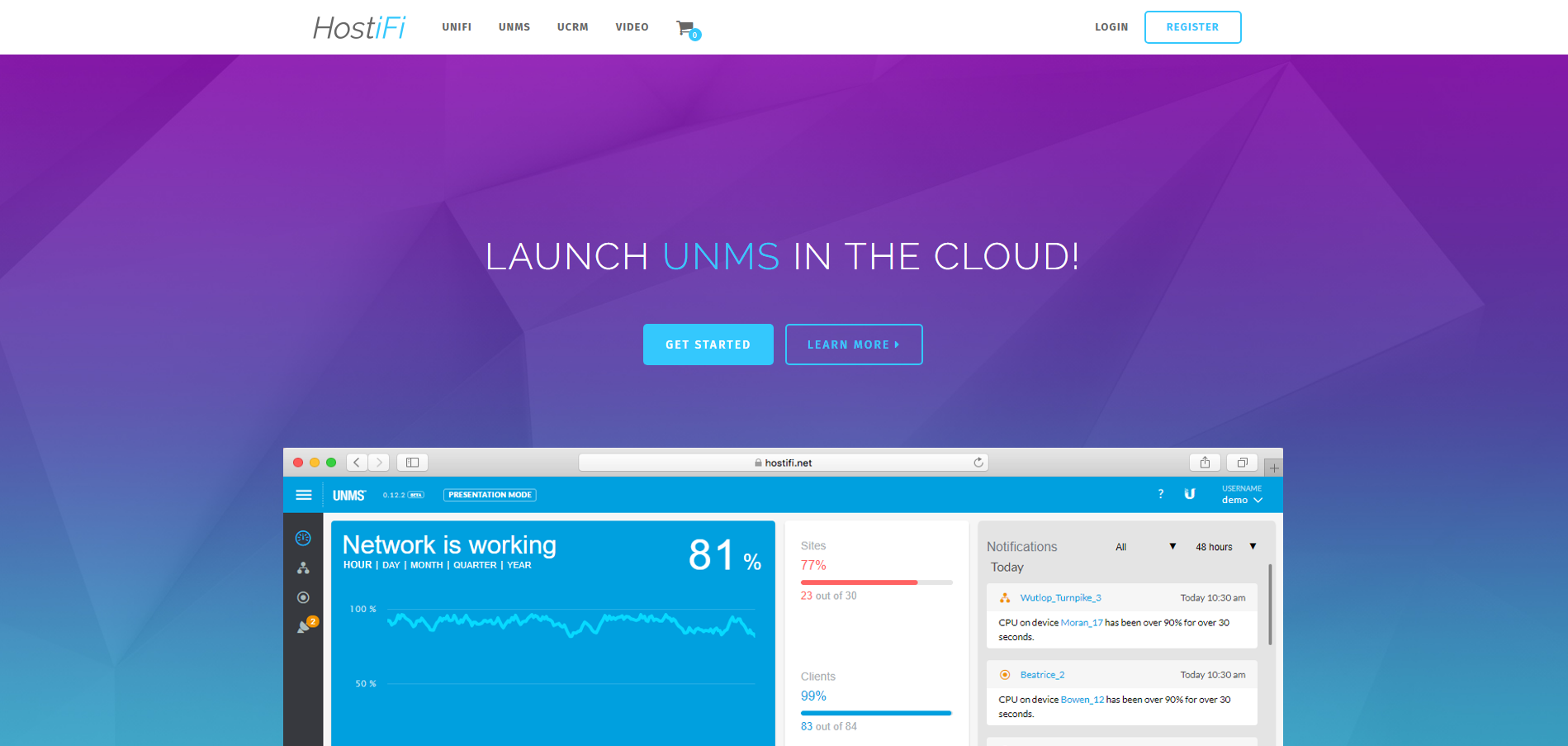 Originally, because UCRM was not integrated with UNMS, it required SSH access to the Ubiquiti devices for certain features like automatic CPE shutoff when payment was missed. As a workaround, we helped our customers set up VPNs into their WISP networks. Today, these features no longer require VPNs for device SSH access now that UCRM is integrated into UNMS.
📍 2019 — UNMS v1 Released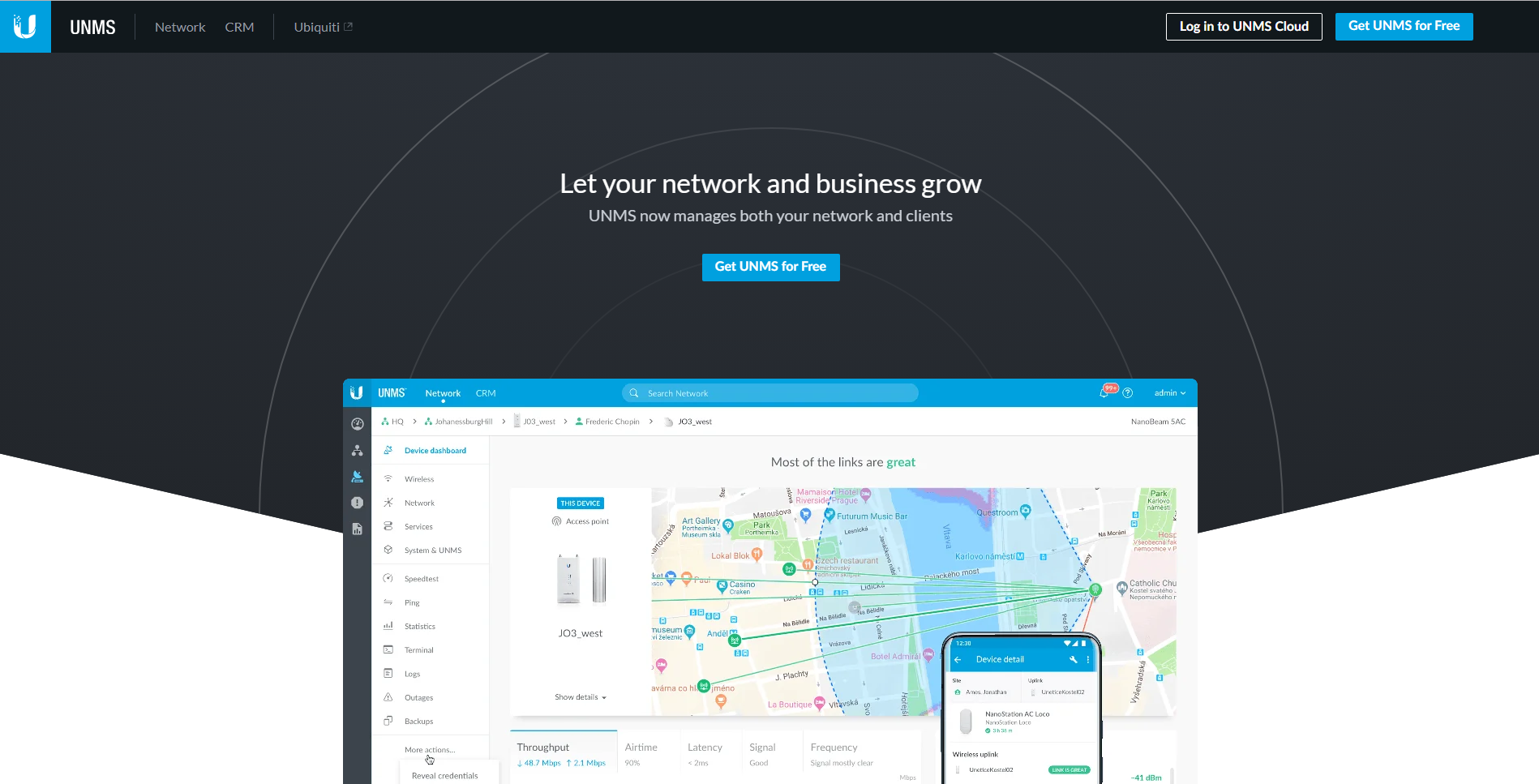 UNMS v1 was released which came with UCRM included. Many features between UCRM and UNMS were now integrated. UCRM v2 continues to receive security updates, but it is recommended for it to be migrated to UNMS v1.
📍 2019 — HostiFi launches UNMS v1 cloud hosting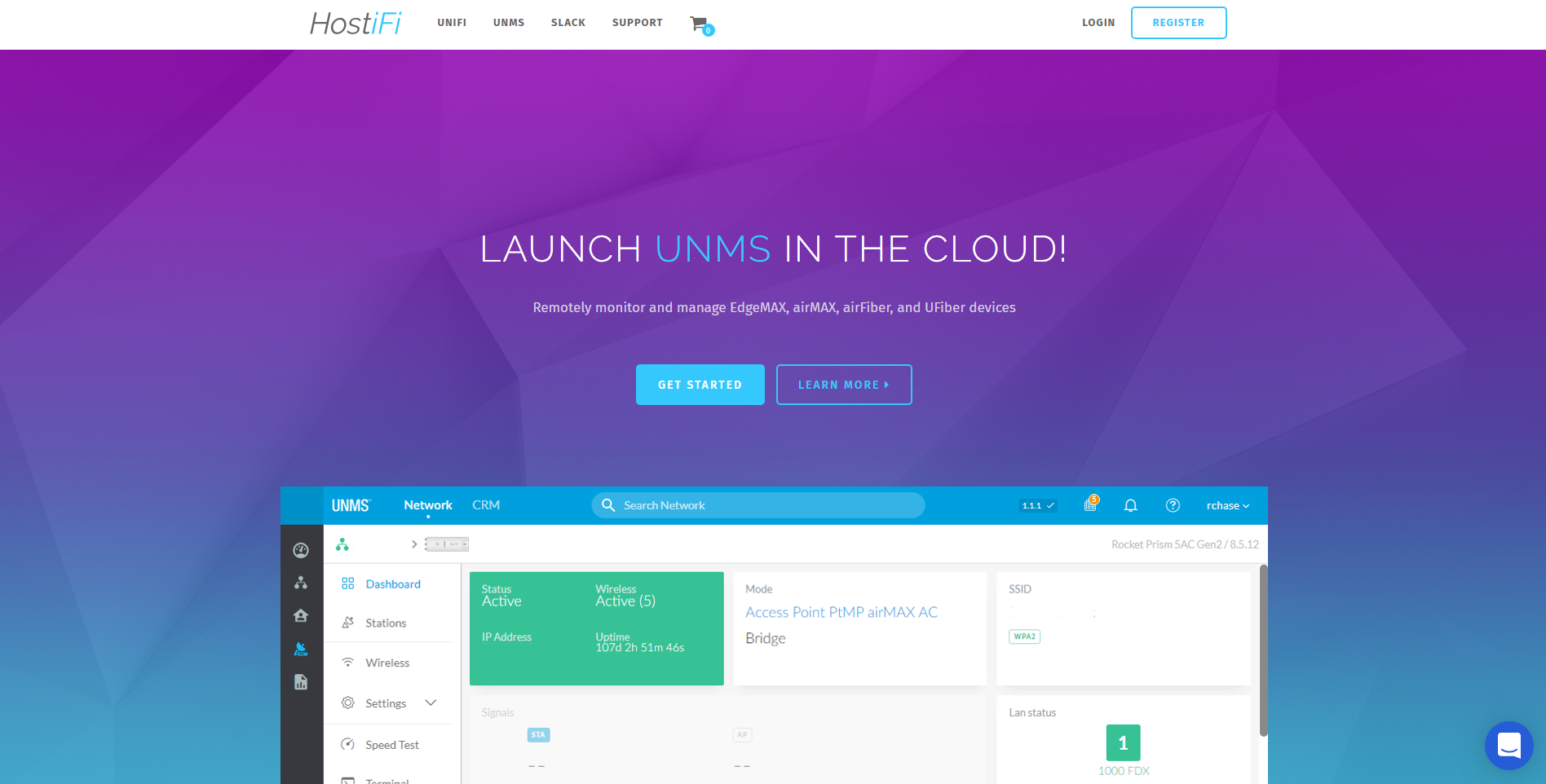 We removed our UCRM v2 product, and updated the UNMS product for v1 support. We helped all of our customers upgrade and migrate from UCRM v2 to UNMS v1, in many cases reducing their bill from 2 servers to 1.
📍 2019 — Ubiquiti launches free UNMS v1 cloud hosting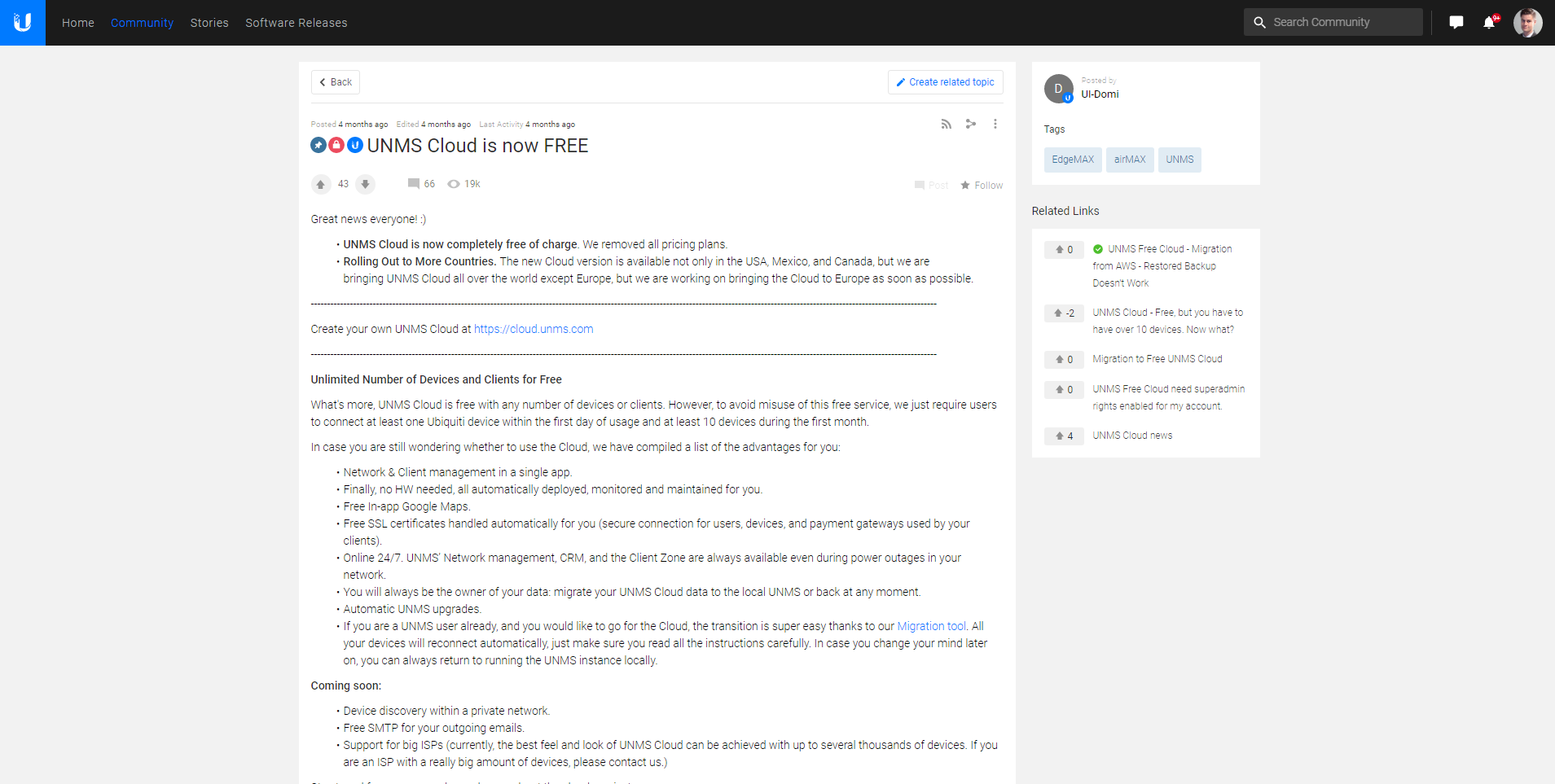 Initially, at HostiFi we considered that this would be the end of our UNMS hosting run. We expected to see an immediate decline in new UNMS server purchases followed by existing UNMS customers migrating away. To our surprise however, almost all of our UNMS customers stuck with us, and people continued to purchase UNMS servers with us.
We started to learn more about Ubiquiti's free offering and after many discussions with our customers, we found that we are still able to provide a very differentiated service which people are willing to pay for despite a free alternative being available.
📍 2019 — HostiFi reinvests in its UNMS cloud hosting product
👨‍💻 Last week we revamped our UNMS cloud hosting product
Rewrote our backup script to remove our Admin access from the servers. Previously our backup script logged in to each server with an Admin account, downloaded a backup, and then saved it to DigitalOcean Spaces. After this rewrite, the backup script only requires SSH access, which increased security for our customers by removing our account and provides a fully white-labeled solution now with no reference to HostiFi anywhere on the servers.
We automated the software upgrade process and will provide UNMS update testing and deployment for our customers going forward.
We're working on new KB articles to show our customers how to get SSH access to their servers, backup to their own server using rsync, or backup to Dropbox, Google Drive, Microsoft OneDrive or other cloud storage providers using rclone.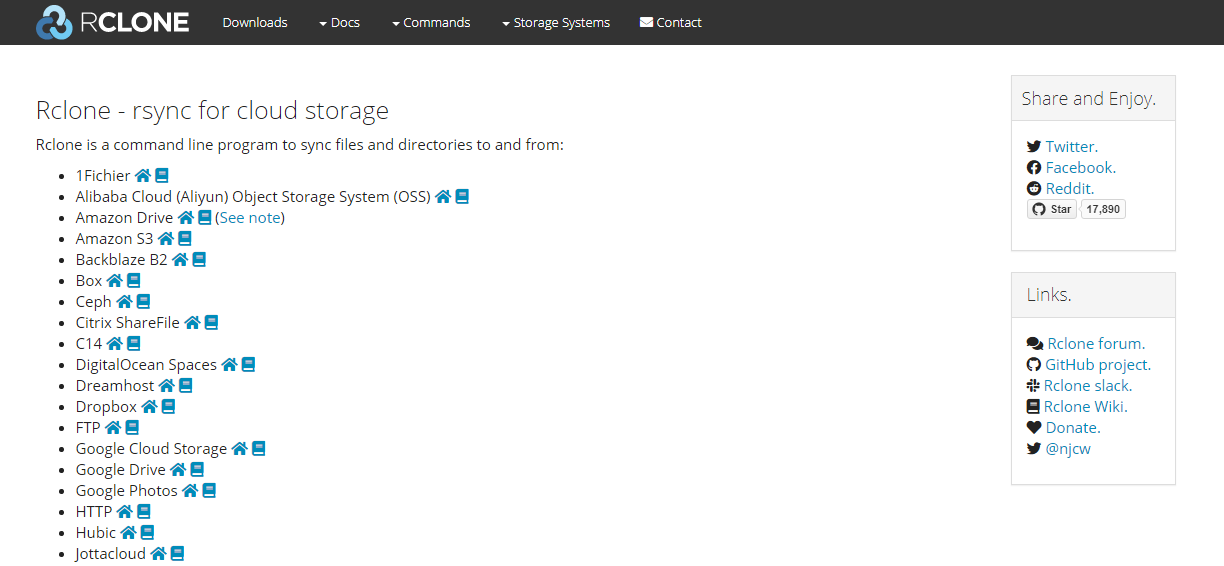 Even though UNMS is only a small part of our overall business currently, which is primarily UniFi, we're excited about UNMS and bullish on its growth worldwide in the next few years.
🤑 Ubiquiti free cloud vs HostiFi cloud
We're able to offer a differentiated solution from Ubiquiti's free UNMS offering, which our customers feel is worth paying for. Here are some things that we do that Ubiquiti can't/doesn't.
✅ HostiFi — Offsite backups
We provide nightly offsite backups to DigitalOcean Spaces with every server, and have guides on how you can use rsync or rclone to backup to your own cloud storage providers as well. Ubiquiti's cloud does not have any feature available for you to be in control of your offsite backups in an automated way.
✅ HostiFi — Server Location Options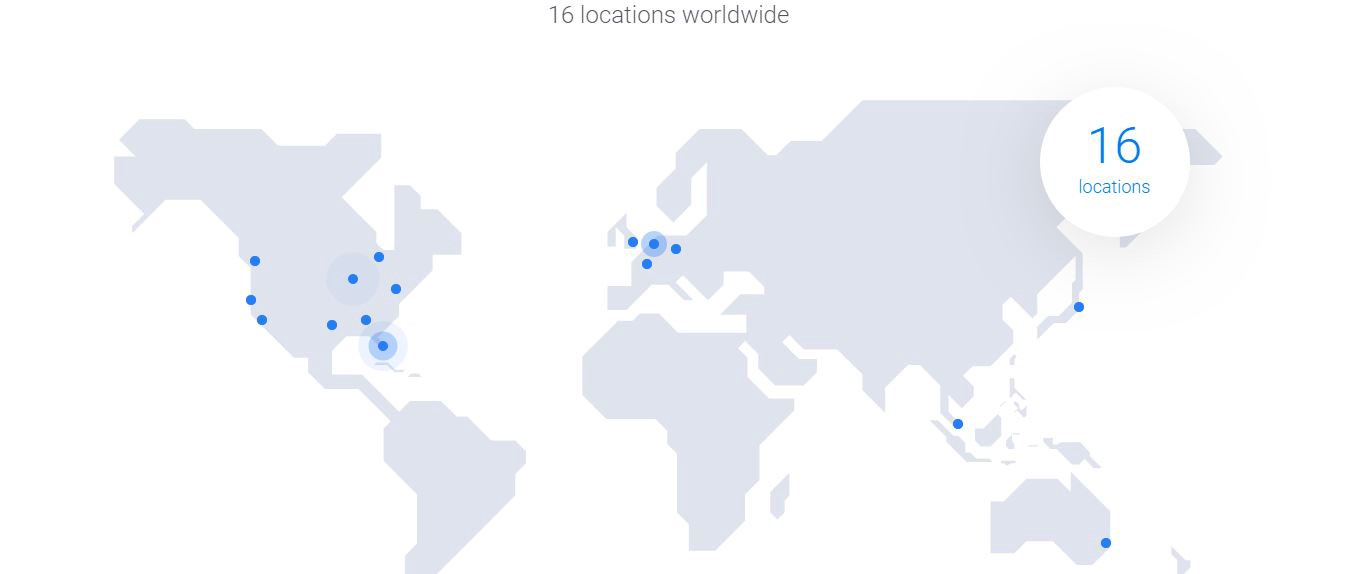 We use Vultr as our infrastructure provider. Each customer gets their own VPS for UNMS, not a container. We are able to easily move your VPS to 1 of 16 locations worldwide. Ubiquiti's infrastructure runs containers on shared hosts which are not transferrable to datacenter locations of your choosing.
✅ HostiFi — Scalability
Ubiquiti has a 20GB storage limit on their cloud instance which is not able to be increased. There are no paid plans that you can purchase to scale up or acquire better hardware. At HostiFi, we are able to easily scale your VPS to increase resources as needed to suit your deployment.
✅ HostiFi — SSH Access
At HostiFi we offer SSH access for customers to be able to get into the command-line of their UniFi and UNMS servers. This is not available in Ubiquiti's cloud.
✅ HostiFi — Custom Domain Name
Ubiquiti does not have custom domain name support, limiting your ability to brand your business portals for your customers. At HostiFi we can help you set up custom domain names and SSLs for both UniFi and UNMS.
✅ HostiFi — Better Support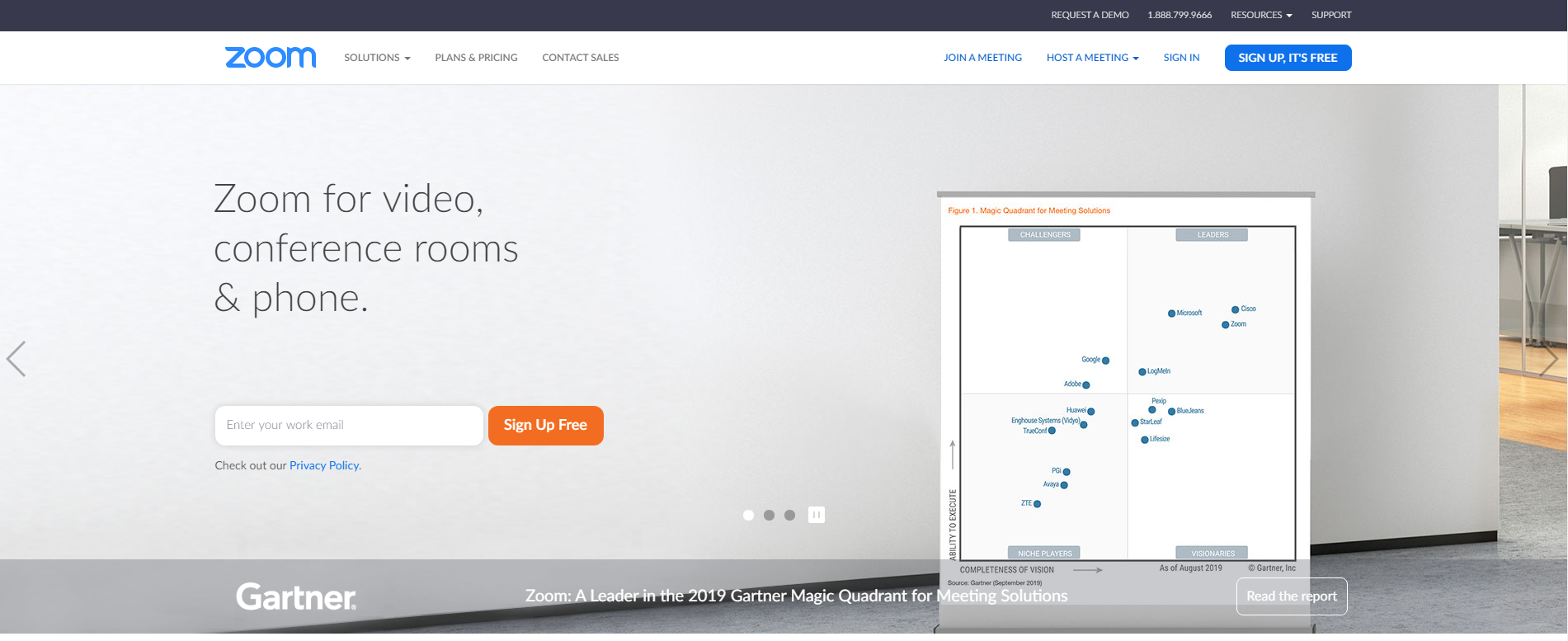 Claiming we provide better support is subjective of course, but we're highly responsive on email, live chat at our website, Slack, social media, we even have a phone number you can call and we do Zoom screen shares regularly to help customers when they get stuck. Most of the reviews on our Facebook page reference our support expertise: https://www.facebook.com/pg/hostifinet/reviews
Ubiquiti on the other hand… support is not a big priority there we would say.
🤔 Why do you need UNMS or UCRM any way?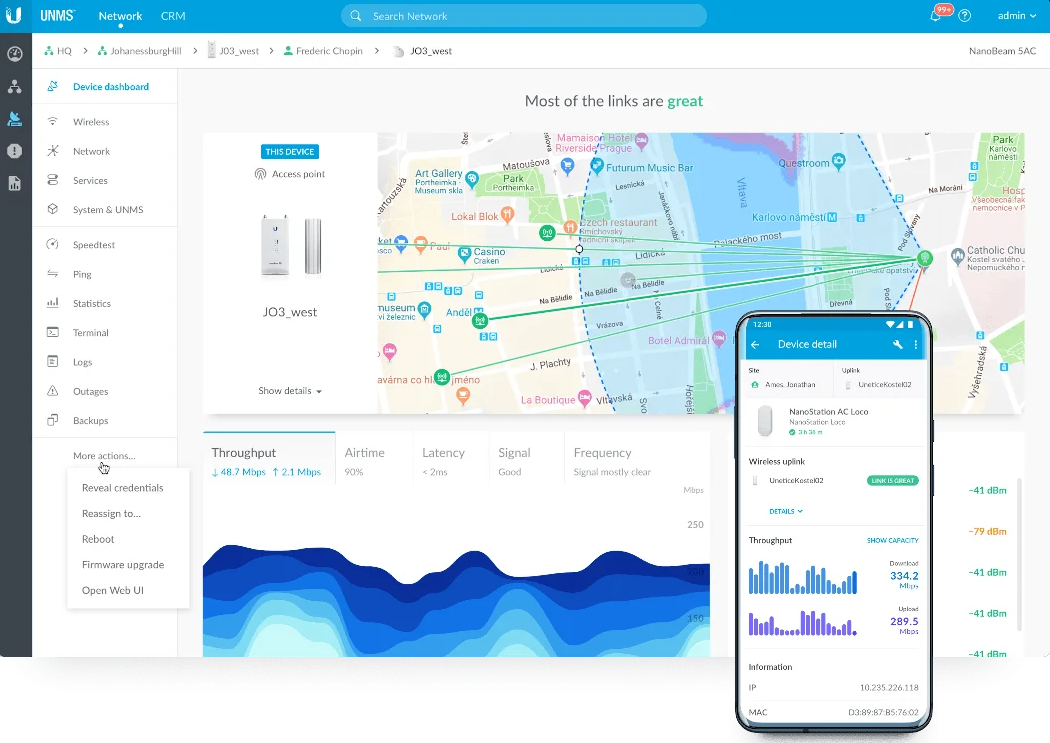 The short answer is you don't need it, but if you have any EdgeMAX, airMAX, airFiber, or UFiber devices, it can help you manage and monitor them. Unlike a UniFi controller which is a requirement for configuring and managing your devices, with UNMS, the devices can all be configured independently if you choose.
After working with customers from all over the world, we've found that the use cases for UNMS and UCRM are typically divided into two groups.
UNMS for MSP/IT Service Providers
MSP/IT service providers commonly use UNMS for remotely monitoring and managing EdgeMAX and airMAX devices, but leave UCRM disabled because they generally don't provide internet service subscriptions for their customers, only project based and managed service work for businesses.
We typically see MSP/IT service providers using UNMS to remotely monitor manage EdgeRouters and EdgeSwitches that they've deployed for their customers.
UNMS allows them to configure settings on the device, open a terminal to the device right inside the web interface with no VPN required, push firmware updates to their devices, and is a central repository for the devices to backup their configurations to. Incase of a hardware failure, a new device can be provisioned with the backup from the old device stored on UNMS.
MSP/IT service providers commonly will set up some point-to-point wireless connections for their customers to extend internet across buildings. They are able to remotely monitor the wireless links and manage the airMAX devices. The NanoStation ACs for example are a great choice for short-range wireless point-to-point connections.
UNMS and UCRM for WISPs and ISPs
EdgeMAX
airMAX
airFiber
UFiber
WISPs and ISPs typically are using many different types of Ubiquiti devices, and use UNMS for monitoring and managing them. Originally, many WISPs would use UNMS for controlling the devices, but use other billing solutions besides UCRM, but lately we are seeing more WISPs checking out UCRM again now that it is integrated with UNMS and has more advanced features and automations available.
👋 Conclusion
We're stoked about all of the great products and software Ubiquiti is releasing, and the opportunities it's creating for MSP/IT service providers and WISPs. At HostiFi, we're going to keep reinvesting in building better cloud hosting products and features that take away the tedious parts of managing software and servers so you can focus on your businesses.
Questions about UNMS? Schedule a Zoom call with me here
👉 https://calendly.com/reillychase/unms-demo
Want to get started with UNMS v1 cloud hosting? Try it out here